アジアを代表するシェフ&アーティストのジャニス ウォンが来日、エディブルアート(食べられるアート)インスタレーションをメディアに初披露 
Janice Wong, Asia's leading chef and artist, creates an Edible Art Installation for the Japanese media
アジア最優秀ペストリーシェフに過去2度も選ばれたジャニス ウォンが2月上旬に来日し、彼女が開拓した新ジャンルである、食とアートの融合edible art (エディブルアート)のインスタレーションをメディア、VIPの方々約50名を集めて、日本初お披露目しました。
Janice Wong, who has twice been awarded Asia's Best Pastry Chef, visited Japan in early February to create an installation of her original "edible art" genre – a marriage of food and art. The invited 50 media and VIP guests enjoyed her cutting-edge new style, a first-time performance in Japan.



キッチンに用意された真っ白なキャンパスにジャニスがスプーンを絵筆のようにして、マシュマロとイチゴのチョコレートで、立体的なアートを描いていくと、会場には甘い香りと、驚きの声が広がりました。
Janice demonstrated her edible 3D art with marshmallows and strawberry chocolate using a spoon-like paintbrush on white canvas. The guests gasped in surprise at her outstanding creations and the room was quickly filled with an irresistibly sweet smell.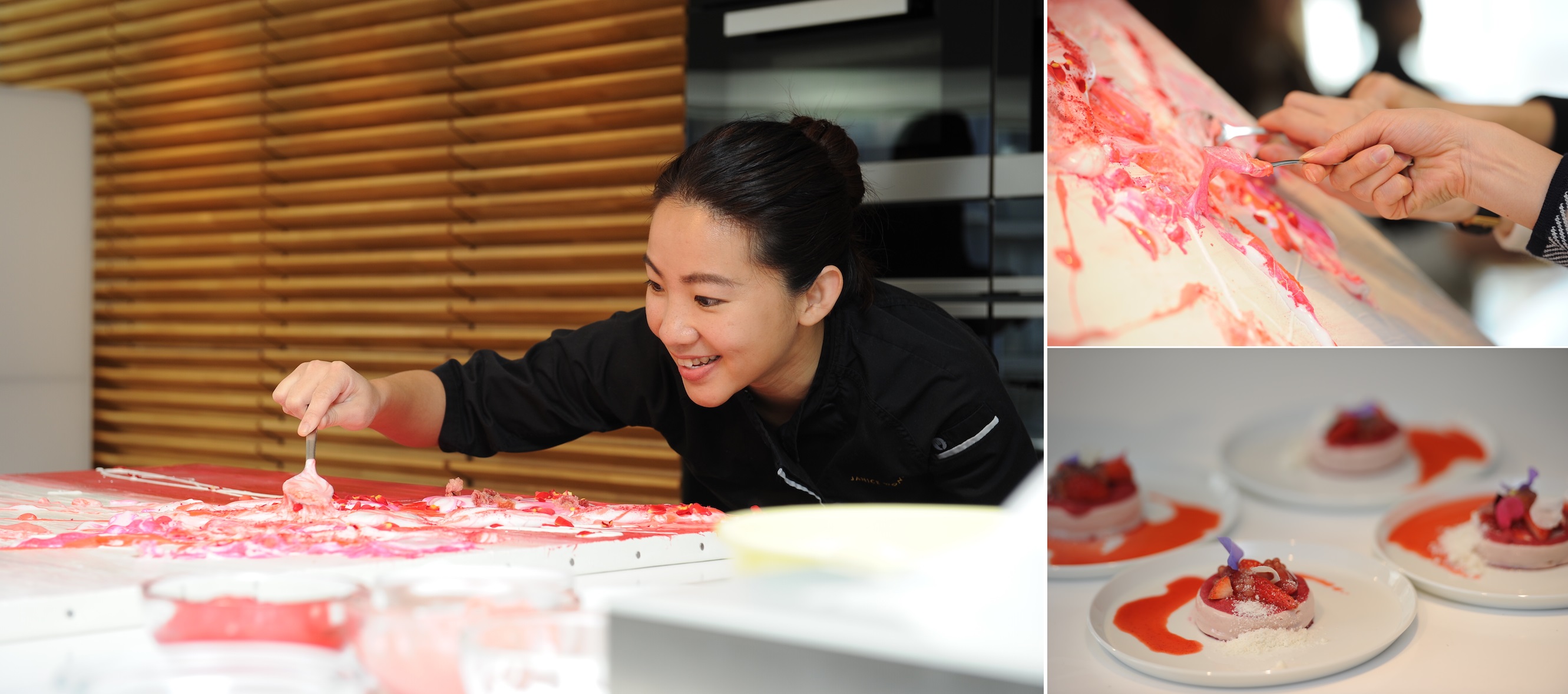 ジャニスがイメージしたのは、春とバレンタインデー。素揚げした塩味のサクラの花をアクセントに、完成したエディブルアートは、ゲストの方々にその場でスプーンですくって召し上がっていただきました。
Janice expressed her image of "Spring and Valentine's day" with fried cherry blossoms seasoned with salt. The guests experienced the taste there and then, scooping up the art with a spoon directly from the canvas.

五感で楽しむエディブルアート体験に、参加者の方々からは「楽しくて、しかも美味しい」、「一緒に参加できることも、アートの一部になっていて面白い」などの声が聞かれました。
All the guests seemed to thoroughly enjoy the experience, and were bubbling with comments such as "It's so fun, and so delicious!", and "The guests participation is also part of the art, making it even more fascinating."

キャンドルウィックでは、若くて才能溢れるジャニス本人と、彼女の創り出す、全く新しいエディブルアートをより多くの方に知っていただくため、ファッションやジュエリーブランドとのコラボレーションや、イベント等を積極的に企画・展開していきます。
Candlewick will continue promoting Janice and her original edible art through collaborations with fashion and jewelry brands and events – so keep an eye out!

ジャニスの美味しいデザートを楽しめる、新宿のNEWoMANに昨年4月にオープンしたお店の情報等詳細は http://www.janicewong.jp をご覧ください.
You can learn more about Janice Wong's Dessert Bar at NEWoMAN SHINJUKU, which opened last April, at http://www.janicewong.jp.