First display at EDIX Education IT solution exposition
For the first time at the 10th Education IT Solution EXPO, Candlewick introduced the programming tool Cubetto which is produced, imported from Primo Toys in the United Kingdom and sold in Japan. At the booth, a total of more than 1,000 people experienced Cubetto during 3 days.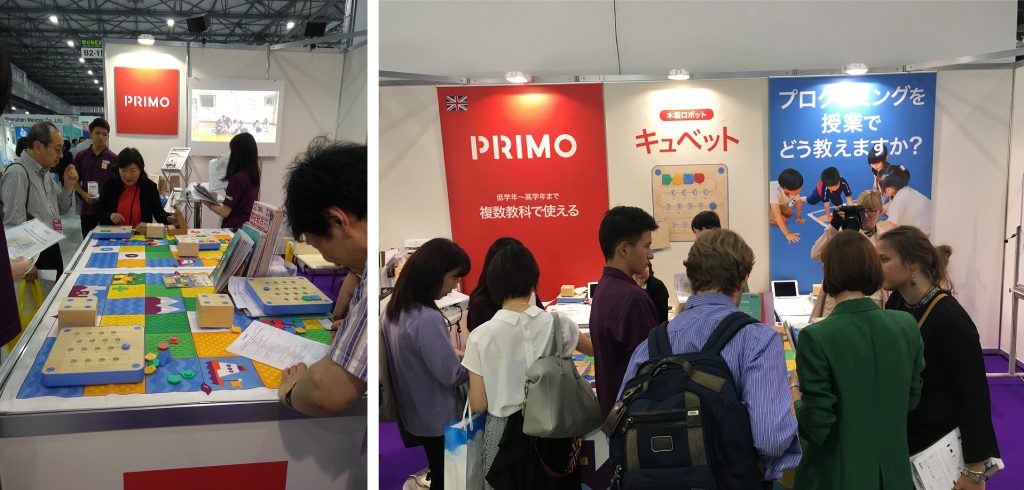 Booth visitors with educational backgrounds expressed opinions such as "This is a tool that will let kids learn the essence of programming with ease", "It is not a tool that will give you a feeling of [I did it!] right away, but rather it will make you think about different solutions, and how to make them work.", "It's fantastically easy to use because it doesn't rely on computers or the internet; with only a couple of batteries, you're good to go" or "One of the best points is that it comes with many curriculum suggestions and ideas".
High interest in the subject-specific teaching tips booklet in line with the course of study
The booklet "Instruction Tips According to Subjects" developed by Candlewick for elementary schools this year also generated a lot of interest. The booklet contains a summary of teaching tips for each subject aligned with the official Japanese curriculum. Subjects include English, math, life, science, society, art, foreign language activities and integrated learning subjects from first grade to sixth grade according to the official curriculum.

The education set for elementary schools, which has been released in June of this year, comes with a DVD that carefully explains the teaching method so that even first-time teachers can start teaching immediately by using the instruction tips booklet as well as the large array of materials that can be used on a whiteboard which are provided with the set in order to facilitate the sharing of ideas for the students. At the booth, we conducted a total of six mock lessons using this set of teaching materials and had the participants imagine the actual lessons.
Since its launch in Japan in 2016, Cubetto has already been introduced in over 100 educational institutions in Japan and is now spreading more and more. Due to programming education being made compulsory at Japanese elementary schools in 2020, we will further strengthen cooperation with educational institutions such as cooperation with the Board of Education this year.
■Primotoys website: https://www.primotoys.jp/
■Details about the education set: https://www.primotoys.jp/educators-jp/education-bundles-jp/