A Month-Long Initiative to Introduce Monaco through the Lens of Sustainability and Sports
During the month of October, as the Japan office of the Monaco Government Tourism and Convention Bureau, Candlewick organized a Monaco Sports Café. This event took place from October 1st through November 3rd at the café space of Aqua Sports & Spa, a members-only sports club.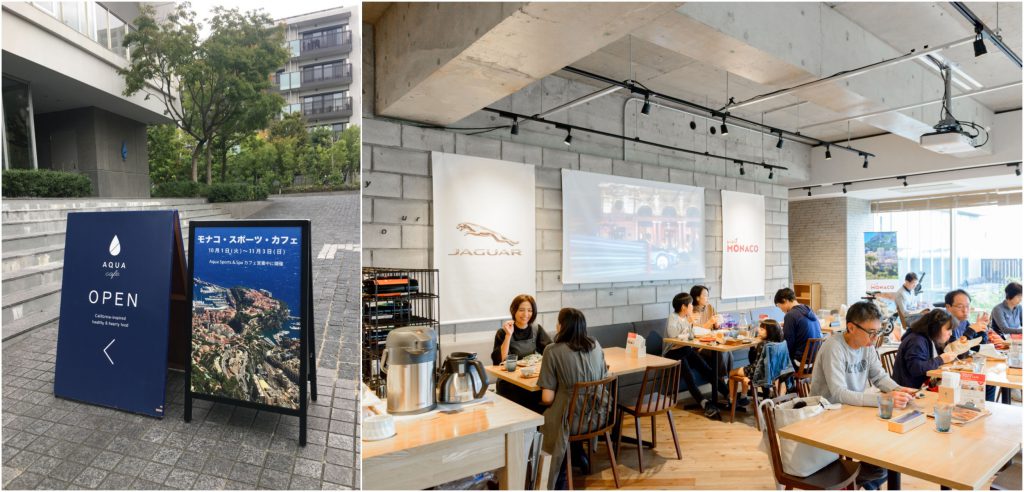 Open to the public, the café served a special Monaco menu and Orangerie cocktail during the event. We also installed an exhibition introducing Monaco's deep connection to sports, such as Prince Albert II's participation in the Nagano Olympics as part of the bob sleigh team, as well as the Principality's focus on sustainability, by introducing the activities of Peace and Sport, an association which encourages world peace through sports education, under the high patronage of Prince Albert II.

In the café, videos played on loop, introducing the Principality, for guests to enjoy watching during their meal. We also partnered with Jaguar, who recently filmed their advertisement for their new I-PACE electric car in Monaco with tennis player, Kei Nishikori. This ad campaign which combined the topics of Monaco, sports, and sustainability matched perfectly with the event's theme so we were happy to offer visitors the opportunity to test-drive the I-PACE around the Setagaya area.On October 14, Sports Day in Japan, we held a special event at Tsutaya Kaden, a popular bookstore and electronics store to further explore the theme of sports and sustainability in Monaco. We organized free yoga and stretch classes for guests to experience Monaco's sports and wellness, while surrounded by a video of Monaco's sights.

Candlewick also coordinated a talkshow with special guests, former pro football player Mr. Tsuyoshi Kitazawa and sports journalist Mr. Florent Dabadie. The two discussed the importance of sustainability, Monaco's charm, and how sports can play a part in creating a better world. It was a great opportunity to use the excitement around the Rugby World Cup to teach Japanese guests about Monaco, and particularly Monaco's focus on sustainability and charity work.